Trekking in the Glorious Sapa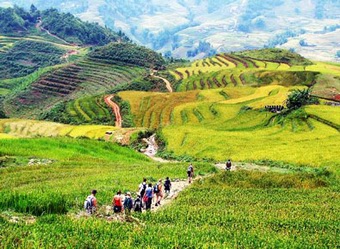 For those looking for adventurous Vietnam holidays, the country offers some fantastic trekking opportunities, taking in jungle forests, impressive mountain scenery, stop offs at traditional Vietnamese villages and a glimpse of the agriculturally astounding rice paddies that dot the land. One of the most popular destinations, situated in the Hoang Lien Mountains of the north is Sapa Vietnam, an old French hill station that now provides adventure and luxury in equal measure. For the best time to visit Sapa, plan Vietnam holidays around the months of April and May, before the onslaught of the torrential rainy season.

Sapa Highlights
Sapa is home to many natural and ancient wonders. As the Vietnamese culture is steeped in ancient folk lore, the landscape of the land often finds its explanation in age old tales passed down through centuries. Ham Rong Mountain is no exception. Lying at the foot of the Hoang Lien Mountain range, the story of this strangely shaped mountain is a legend of Emperors and dragons resulting in the name Ham rong, or 'Jaw of Dragon'. Also worth a visit is the Ancient Rock Field, where the timeless remains of rock engravings remain to this day, their meanings still unclear to archaeologists. Nearby Cat Cat village, home to the H'Mong people, offers a taste of traditional rural life to Vietnam holidays, with many handmade arts and crafts on display, in particular, the well honed craft of gold and silver jewellery making. Alongside these popular attractions lie the Bamboo Forest, the Silver Waterfall and Ta Phin Cave. All in all, Sapa offers a wealth of opportunity for exploration and discovery.

Reaching the 'Roof of Indochina'
Mount Fansipan (or Phan Xi Pang), part of the Hoang Lien Mountains, is not only the highest peak in Vietnam, but also in Indochina. At 3,143 metres above sea level, reaching the so called 'Roof of Indochina' is a great challenge for many travellers on holidays to Vietnam. Treks to the peak of Fansipan will generally take two or three days depending on the root taken and can often weave through paths of muddy and wet terrain, so preparation is key. For all the toil, the scenery is well worth it as you pass through jungle forests on your way to the breathtaking panorama of the summit. Longer treks will wind their way through traditional minority villages still present of the slops of the mountain, and the friendly inhabitants of Sapa will make your journey all the more memorable. For the avid trekker, a visit to Sapa is a brilliant addition to Vietnam holidays, and climbing Mount Fansipan, an unforgettable experience.
Related information