Sapaly Express Train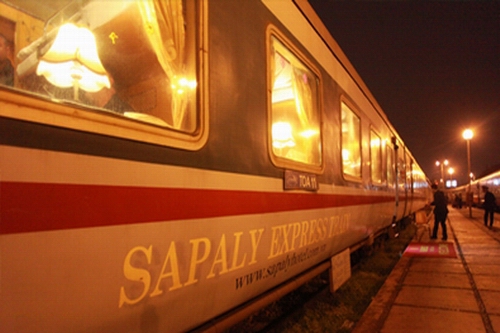 Best Western Sapaly Hotel would like to introduce to you the high quality carriage "Sapaly Express Train" of the high-class tourism train from Hanoi to Lao Cai and return.With our concern of the service quality, you can enjoy your journey on the "Sapaly Express Train" as in the Best Western Sapaly Hotel. Our train is the combination between the equipments of the four-star Hotel and the professional service agents will ensure to provide you an utmost satisfaction of whole long train journey choice.
With the stunning and luxurious interior which obtains European standards, it's not hard to imagine that you pass the journey of 350 km from Hanoi to Lao Cai in just only one night with a wonderful sleep in your carriage which is like a luxury room in a four–star hotel. Each cabin has four comfortable and spacious beds with the wooden floor; graceful curtains; warm light system and an interior that will certainly make you feel satisfied.

Sapaly Express Train could certainly provide passengers with excellent train service compared to other counterparts as all things are new and fresh. The train offers guests 2 special carriages on two trains, namely SP3 and SP4. What Sapaly Express Train does bring tourists is an epitome of Sapaly hotel with cabins of 3-star standard. Each carriage is designed only for 6 cabins instead of 7 cabins as usual, so each cabin is certain to be more spacious. Decorated with natural wooden furniture, soft pillows, fresh blankets, graceful curtains and state of the art facilities, cabins are bound to bestow on passengers a nice stay with deep sleep. Sapaly VIP 2 berth cabins are designed solely for couples who desire to have their own privacy.
Departure Time
Hanoi at 9:50pm to Laocai at 5:30am
Lao Cai at 8:30pm to Hanoi at 5:00am
Fares
Train fares (one way) - including transfer from hotel to Ha Noi railway station