Tet of dancing of the Dao Do Sapa
Time: From the 1st to the 2nd day of the first lunar month.
Place: Ta Phin Commune, Sa Pa District, Lao Cai Province.
Objects of worship: Deities, ancestors.
Characteristics: Dancing (14 styles of dance), bathing ancestor's statues.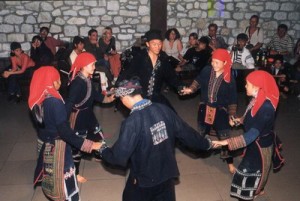 Three big families of Ly, Ban, Trieu arranged Tet of dancing at the head of the family's house. The main ceremony is the dances which are performed by small group of young boys and girls. There are many dance styles which are described the contexts of ancestor angel go down the earth to attend the Tet with offspring. After the dance ceremony is an ancestor's statues procession and bathing ancestor's statues ceremony. Next to it is a dance of offering red and yellow cocks… The flag dance is the end
Related Tours
No related posts.