Violette Express Train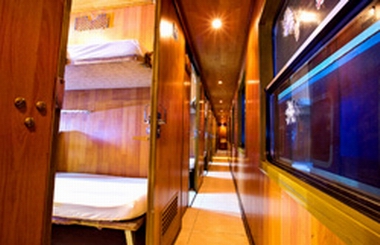 Violette is a new train company, with profound experience in railway system and to bring the great experience to travelers when they come to Vienam, Violette Express Train decided to run the luxury train route not only from Hanoi to Sapa but also from Hanoi to Hue and Danang also. All cabins of Violete's carriage are equipped with clean and modern furniture. Each cabin is all equipped with light, air condition system and other stuff like a newspaper, drink, snack on desk enough for your trip.
Currently, Violette Express Train offers two main types of cabin: Deluxe 4 soft berths and VIP cabin with 2 soft berths (Private cabin).
Departure Time
Hanoi at 9.10pm to Laocai at 5:00am
Lao Cai at 8.15pm to Hanoi at 5:30am
Fares
Train fares (one way) - including transfer from hotel to Ha Noi railway station