How to prepare for a trekking tour to Sapa

Travelers to Sapa cannot miss a trekking tour to villages, into the jungle or climb up the mountain to learn about daily life of local people and nature, discover the majestic beauty of the terraced fields, mountains and waterfalls...A trekking trip is usually combined with homestay in the village. I would like to share some experiences about homestay and trekking in Sapa.

1 - Prepare your luggage.
Trekking in Sapa is a kind of experience and explore the original cultural space of ethnic minorities in the region. Therefore in order to have an interesting and impressive tour you need to have information about the place you are going to visit, customs and traditions, what you should and should not do when you go there.
- Itinerary: If you travel Sapa without a local guide you need to study the travel map of the area you are going in order to have an appropriate plan, calculate the distances so that trekking time is arranged accordingly, check the weather forecast to prepare alternatives, note that you need to have permit from local authorities to visit some border areas or restricted reservation places under control of specialized agency.
- Clothing: As you are going to trek in Sapa we recommend light and cool clothes, easy to sweat, and it would be a good idea to have many pockets to keep your necessary things.
- Trekking shoes: You should prepare 1 pair of shoes with flat heels or sport shoes, this is very important and it decides whether you will have a good trip or not, never use high heels or new shoes for the trip because it is very unpleasant and you need time to get used to it, materials of the shoes should be clear, cool, waterproof and fast drying.
- Backpacks: You will have to carry your luggage yourself during the trekking trip so please choose a mid size bag for storage, you should wear a backpack with belts and tie to your back, the belts should be soft and smooth so that you feel comfortable through out the journey.
- Food and drinks: A trekking tour consumes a lot of energy and makes you sweat and lose much water so you need to prepare enough food and drinks to complement the body when needed. Food you should bring are bread, canned meat, sausage, snack and confectionery, note that you should bring some candy for the local children in the villages you will visit.
- Medication: Medicines for cold, fever, diarrhea, antipyretic, antibiotics, bandages, first aids, vitamins, supplements and snicker candy (a kind of sweet that provides high energy) is indispensable. Using anti-chapped lips Vaseline is also essential.

2 - The taboos when visiting villages in Sapa:
When visiting the villages in Sapa such as Lao Chai, Ta Van, Cat Cat, Y Linh Ho, Ta Phin... inhabited by Black H'mong and Red Dzao people, you absolutely can not sit in the middle of the house, When you visit their home you have to follow the instructions of the hosts. The front desk is for parents (if Parents are dead then nobody is is allowed on it)
When you are visiting the villages and see local people doing a ritual or sacrificial ceremony you must not participate because they don't want a stranger especially a foreigner to join. The ceremony can be recognized by a bunch of green leaves hanging from a high pillar at the village entrance, a solemn place so that everybody sees it and avoid.
When you meet the children in the village do not touch or kiss their head because ethnic people consider it make children frightened and vulnerable to illness.
If you see a good and clean place in the village don't take a rest and eat there because that's probably the worshiping place of the village, a very sacred place for villagers, you should absolutely not whistle when visit the village as people see the whistle as the sound calling devils.
House of ethnic people are divided into different parts, the middle part is always the worship place and guests are not allows to sit there, there is usually a big high pillar where the ghosts reside, travelers do not hang clothes, sit leaning against the "soul" pillar.
When communicating with local people and you are invited a cup of wine or water, if you do not want it you can refuse politely so that the hosts understand. People are prohibited to put the bowls upside down as only priests can do it to drive evils away. When you talk to the hosts you cannot talk and point your finger as H'mong people consider such behavior as dissatisfaction or belittle other people.
Clothes you wear at the homestay should not be white linen as it is the color of funerals.

3 - Some trekking routes in Sapa for your reference
- Cat Cat and Y Linh Ho villages of Black H'mong people
- Lao Chai and Ta Van villages of Black H'mong and Dzay people
- Ma Tra and Ta Phin villages of Red Dzao people
- Fanxipan mountain trek, the roof of Indochina at a height of over 3000m.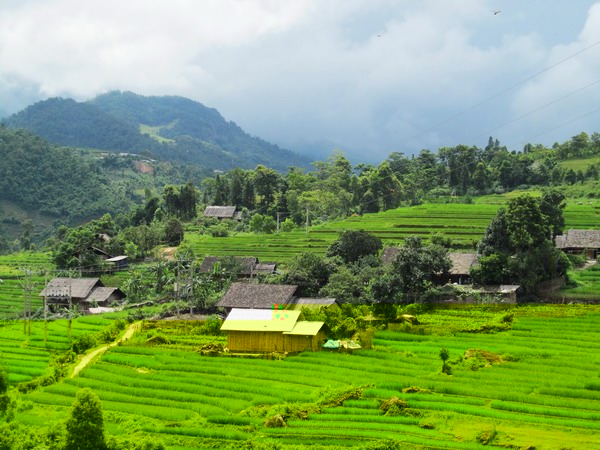 Related informationn