How to arrange a trip to Sapa with 35 usd

Is it true to visit Sapa with only 35 usd? It seems very difficult but not impossible. You can arrange your trip to Sapa by yourself with less than 50 usd but still comfort and convenience, decent accommodation with bathroom, 3 meals a day with good food. Just a bit of experientce and tips that I am happy to share with you in this article.

However what I am writing is only for those who want to save cost for a trip to Sapa. If money is not your problem I will have another article about Sapa travel next time.

Many young people want to travel Sapa but don't have much money, if you have a lot of money you can visit anywhere you like, however traveling without so much money is really fun isn't it? I have learnt from experience that in the difficult situation one would find out their ability to adapt and his response was not that bad. Some of my friends have forced themselves to travel with tight budget so that they would have pleasant experience. Anyway, let's go back to the main subject! This article will tell you how to visit Sapa by yourself with only 35 usd.

Means of transportation to Sapa
You can go to Sapa by train, motorcycle and cars/bus. I eliminate the bus because of high fares (aproxx 15 usd/way). Motorcycles and trains are two reasonable means if you want to save costs.
Motorbike: Choose a motorbike with gear as it costs you only about 7 usd petrol for a 300km journey, so total petrol cost for a trip to and from Sapa is 15-20 usd regardless of the
case you break down along the way... If you go two people, the expense is very good as you split the bill.
Travel to Sapa by train: The trains will cost you more as train fares Hanoi to Lao Cai on hard seat is 6 usd/way on weekdays and 7 usd/way on weekend, plus 2 usd public bus from Lao Cai train station to Sapa, it will cost you 4 usd a day to rent a motorbike in Sapa plus 4 usd petrol then it costs us at least 28 usd in total.
However traveling by train or motorbike is subject to your health and experience. Travel by motorbike more than 350km from Hanoi to Lao Cai is a nice experience however tiring. Over 12 hours on the bike would probale make you exhausted and also many other things along the way.
Travel Sapa by motorbike is preference of many people including me, there are 2 ways to reach Sapa is via Lai Chau or via Lao Cai provinces. The route through Lao Cai and then to Sapa is close and easy to travel, however if you go through Lai Chau you will have a chance to conquer 2 of the "Four big passes" in the legendary northwest Vietnam is Khau Pha pass (30 km long) and O Quy Ho (50 km long). Not only will you conquer the passes, enjoy spectacular scenery and take beautiful photos but you also keep the cost down. In my last trip, the old Honda Wave bike took me only 1.5 times refueling (6 usd) for a 400 km journey, too good wasn't it? What I mean is that for a long trip we need to choose the mode of transport that saves petrol and keep stability. It is advisable to maintain your motorbike before departure.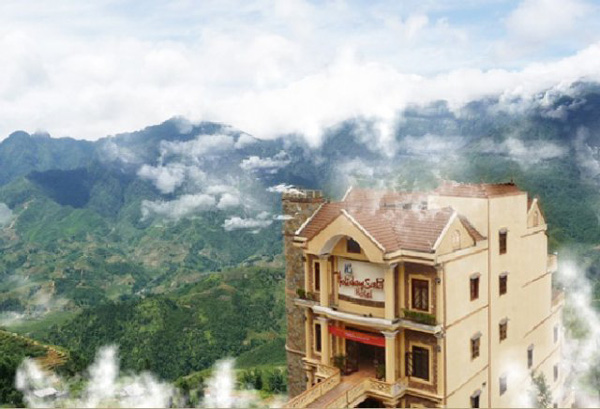 Sleeping in Sapa:
Arriving in Sapa, the first thing you need to do is find a place to rest. I have not tried yet however Couchsurfing in Sapa is not effective as some of my friends told me. Having spent 25-28 usd pm travel expenses you need to pay for meals and entrance fees at tourist sites so you need to save money otherwise it would exceed 35 usd. Normally I still recommend to friends room rates 6-7 usd/room however it is still higher than the initial cost estimate, we have to save even more. Some hostels in Sapa have dormitory rooms with bunk beds, there are about 6 beds in a room, price 2-3 usd/person/night. Rooms are clean, comfortable and you will live with the other backpackers. I think this is quite interesting, if you have concerns about luggage you can leave at the reception and bring only the essentials with you.
It would be great if you can arrange the hotel yourself, but if not you can call my friend Mr Hai 096.6485585 for reservation. You are recommended to book the room in advance and tell the driver who takes you from Lao Cai to Sapa the address of your hotel and he will drop you just in front of your hotel door and you will not have to walk.

You spend 2 usd more for a night stay in Sapa. You still want to stay somewhere for free? I have some suggestions, a bit "backpacking" but will be a great experience. You can get some clothes or books, go to a village which is far from tourist area and ask for a night stay at the home of the village chief. I often ask for an overnight stay whenever I have a chance, it is a really pleasant experience. Ethnic people are very friendly. The village chief always has a big bed at home for guests, this is the custom of H'mong people.

Eating in Sapa:
In the last article I mentioned Tam Xuyen restaurant, if you travel by motorbike you can come here for meals, cheap and good, another choice is in the market, set price 1.5 usd per person however not very tasty. For breakfast you can buy instant noodles and cook with hot water at the hotel. For 4 main meals and 2 breakfasts you will spend 7 usd for decent meals you can save more by eating noodles or bread that will cost only 4-5 usd for 2 days.

Sightseeing places in Sapa
Sapa is very beautiful and there are many places worth visiting. For my recommendation you can visit Cat Cat valley village, Ham Rong mountain and O Quy Ho pass, sightseeing tickets will cost you about 7 usd. There are some attractive places in Sapa you can visit free is Central Church, O Quy Ho pass, Sin Chai village...only 2 days is enough to visit all places in Sapa.
Entrance fees at tourist attractions in Sapa:
- Ham Rong mountain: 3 usd
- Cat Cat village: 2 usd
- Lao Chai, Ta Van, Ho villages: 2 usd
- Ma Tra, Ta Phin villages: 2 usd
- Silver waterfall: 1/2 usd
- Love waterfall: 1.5 usd
- Fanxipan mountain (insurance not included): 7 usd

Some notes when travel Sapa by yourself:
- The food in the market is not good, but if you need to save, you can eat..
- Cook your food at hotel is interesting, however remember to ask first
- When you visit a village, bring along some sweets, candy, school books, pens or pencil or toys like balloons, don't give money
- The bus from Lao Cai will drop you at the door of your hotel, for the return way you can ask the hotel to arrange the bus for you, or you can tell the driver when to pick you up.
- Rent a motorbike or bicycle, laundry, or arrange a trekking tour services are available at the hotel, same price everywhere and you don't need to go anywhere, just tell the reception..
- Ask the price before you buy anything, do not hesitate!
- Do not buy ginseng, mushrooms...at the market, they are all from China, low quality
- Don't travel during Tet holiday, room rates and services are expensive
- Travel Sapa in harvest season is recommended, April and September.

The trip always has something unexpected, you should prepare more money and put it in your account. Just bring enough cash for daily use, the amount in the account is used only in the emergency.

So to summarize: 20 usd for transport, 3 usd for a night stay at hostel, 5 usd for meals, 7 usd for entrance fees, total 35 usd and you have had a wonderful trip to Sapa.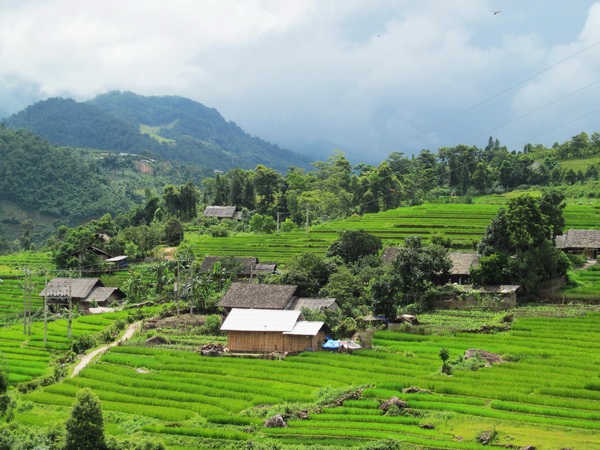 Related informationn